John James Audubon
Life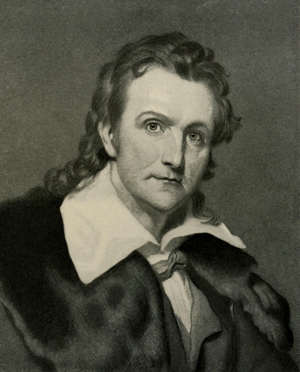 Jean-Jacques Audubon was born 26 April 1785 in Les Cayes, Saint-Domingue, now known as Haiti. He was the son of Captain Jean Audubon and his French maid.

In 1803 at age 18, and having anglicized his name to John James Audubon, he settled on his father's estate at Mill Grove, Philadelphia. It was here that his love of birds and drawing became an important part of his life. He spent much of his time collecting eggs and painting and describing birds. He also learned taxidermy.

It was at this time too that he met Lucy Bakewell, the daughter of a neighbor. They married in 1808 and had four children. His business interests took him to many parts of the United States where he was able to pursue his love of art and birds.

He took American citizenship in 1812 and began to develop his painting of birds to a very high standard.

After a brief spell in jail in 1819 for bankruptcy Audubon began his life work which was to become The Birds of America.

He financed his study and travel to forests, fields and swamps in Alabama, Florida and elsewhere by teaching drawing.

In these years of travel, Audubon's extraordinary technique resulted in the watercolor drawings and the dazzling color illustrations of The Birds of America that we know today. Using real birds which he captured, stuffed and placed in naturalistic poses, he painted their life-size beauty against a version of their habitat, often luxuriant with foliage and blossoms. His brush strokes are assured and his ability to paint the finest lines, bringing plumage and expressions to life, is unsurpassed.

Audubon published The Birds of America in England from 1827 to 1839.

John James Audubon died in Manhattan, New York, on 27 January 1851.