The Original Edition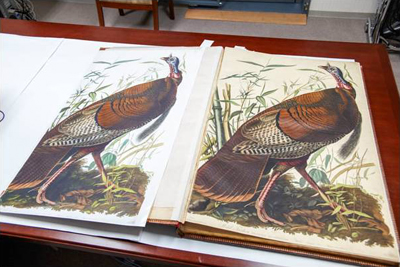 Acknowledged as one of the most important and beautiful color plate books ever published, John James Audubon's The Birds of America is also one of the rarest and most collectable. It was published from 1827 to 1839 in sets of four volumes. More than 160 subscribers paid US$1,000 each (US$20,200 in today's dollars). There is a consensus that not more than 200 sets were printed and not less than 170. Line engravings and aquatint by William H. Lizars of Edinburgh and more importantly by Robert Havell Jr. of London, transformed Audubon's original life-size watercolors into a work of rare beauty.

To accommodate these large illustrations, The Birds of America was published as a double elephant folio some 40 inches tall and 28 inches wide, equivalent to 100 by 68 centimeters. The Birds of America depicts more than one thousand birds which come vividly alive in its 435 pages. Its value to science and especially to ornithology cannot be overstated.